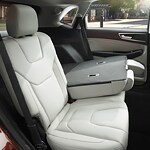 Is it a car or is it an SUV? Crossover vehicles are growing ever popular on the roads today. The Ford Edge is one of the most popular choices for consumers looking for a midsize SUV.
Performance is everything whether you want to go for a trek full of exploration and novel experiences or simply want to commute to work. Drive through Antigo, WI with one of two engine options found in the Edge. The turbocharged 2.0-liter four-cylinder engine is plenty suitable for several reasons. It combines well with the drivetrain to offer a little bit of pep while still maintaining a respectable fuel economy.
If you are a consumer looking for a sporty version of the Edge with a twin-turbocharged 2.7-liter EcoBoost V6 engine, the Ford Edge ST is right for you. The Edge comes standard with front-wheel drive, but you will certainly have the option to go with all-wheel-drive while still maintaining fuel performance. Visit Langlade Ford to see more of what makes the Ford Edge a popular midsize SUV.