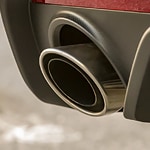 If you are looking for top performance, then you have to see what the Ford Mustang offers. This is the popular sports car that makes incredible performance available for the masses. Here's a look at what you will find in today's Mustang.
The Mustang comes standard with advanced 10-speed architecture. This patented design allows you to get smooth transitions from gear to gear and get the most performance from your Mustang engine. Also, the steering wheel-mounted paddles allow you to make the most of the 10-speed design.
When you want to control the sound that comes from your Mustang, then you can get the class-exclusive active value performance exhaust. From a whisper to a roar, you can keep your Mustang's exhaust power in complete control.
Get into gear with a brand-new Ford Mustang at Langlade Ford. We invite you to come to our showroom, look at our amazing inventory, and take a test drive today.