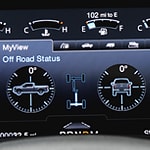 The 2020 Ford F-150 is simply ingenious. This mid-size pickup truck has rugged good looks as well as a sophisticated interior. There are various trim levels to select from, including the Platinum, Limited, and others. The Raptor trim comes equipped with a 3.5-liter twin-turbocharged engine that delivers 450 horsepower and 510 pound-feet of torque.
When looking at the truck's advanced innovations, Ford has definitely brought a lot to the table. This pickup comes equipped with rain-sensing wipers, Automatic High-Beam headlamps, Lane-Keeping system as well as a rearview camera. Images of the rearview camera will be displayed on the in-vehicle production screen. The 2020 Ford F-150 hosts a booming audio system from Bang & Olufsen. You and your passengers will be entrenched in an immersive listening experience. Consumers can also expect smartphone integration as well as SiriusXM radio.
Get your drive on in a 2020 Ford F-150. Our sales reps have the knowledge that you may be seeking.